Victory Harbin is #MadeForKnoxville.
From an early age, Victory knew that entrepreneurship was her calling. Her first endeavor was with a partner, and they founded a company that fixed computers. As she worked to have her business known, she found that her passion wasn't centered around fixing computers, but instead, marketing the business. After that, she immersed herself in all things marketing, taking courses, earning certifications, and offering services to her friends and family. Now she is the proud owner of The Social Brand, with 12 marketing specialists and numerous clients.
The Social Brand is a company of marketing specialists that offers customized marketing for small businesses. The company values learning, enjoys the work they do, cares for one another, and adores their clients.
"Owning The Social Brand is the coolest thing I have ever done in my life."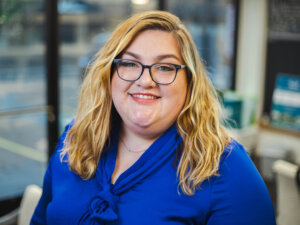 In Their Own Words..
I started as an entrepreneur when I was 21. In many ways, I was too naive to know what I was getting into. But, in many ways, I was braver than I am now to not care.
I started my first company with a partner who wanted to fix computers. I did the marketing for that company and truly found my passion in life. I loved being creative, creating something out of nothing and helping people find the solution they were looking for. I poured myself into learning everything I could about marketing, taking classes, earning certifications and more. Before I realized it, I was helping my small business friends with their marketing and spending more time and making income at the marketing side of things than I was at the computer side of things.
In 2018, I made it official and launched my marketing business under the umbrella of my first business. By 2019, I broke it off and launched The Social Brand. Today, I have a team of 12 amazingly talented marketing specialists who help me bring my vision of customized marketing for small businesses to life. We are still obsessed with learning new things, we love what we do. We care about each other, we care about our clients. It's the coolest thing I've ever done in my life.
Interested in sharing your "Made for Knoxville" story? Submit here!