Stephanie Carson is #MadeForKnoxville.
Stephanie Carson and her husband, Aaron both grew up in Tennessee. Aaron, a cidermaker, and Sephanie, a producer, watched their town turn into a beer hub of the south and wanted to be a part of it. After her career in television production, Stephanie transitioned into the craft and festival industry and began producing "alcohol sampling festivals" all over the United States. Stephanie's expertise in coordinating and planning, along with Aaron's passion for cidermaking, led them to open Barrelhouse by Gypsy Circus in Old North Knox in 2020. 
Gypsy Circus is a local cider house that places emphasis on art, nature, food, and community. Stephanie has created a menu to reflect her international travels, bringing a taste of the world to Knoxville. The ciders are fresh and presented with suggested food pairings–a unique offering in Knoxville. The owners support and collaborate with other local businesses, entertainment groups, and musicians. 
"Gypsy Circus expanded to Knoxville from Kingsport in 2020, during the pandemic, making it a true labor of love."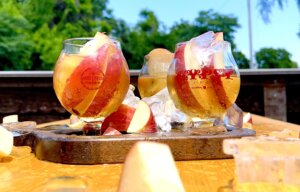 In Their Own Words..
Barrelhouse by Gypsy Circus in Old North Knoxville is a relative newcomer to the Knoxville craft beer and foodie scene, but Stephanie Carson is not. Carson and her husband, cidermaker Aaron Carson, are both Tennessee natives and longtime admirers of the Scruffy City's flourishing downtown. Almost a decade ago, Carson decided to take her television production skillset to the craft and festival industry she loved. She began producing alcohol sampling festivals in Tennessee, North Carolina, and Colorado. Her client portfolio includes Copper Mountain Ski Resort in Colorado. Her involvement with numerous festivals and events has helped the industry evolve in East Tennessee. In 2015, Gypsy Circus Cider Company opened in Kingsport, Tennessee, making it Tennessee's first craft cidery. 
Gypsy Circus expanded to Knoxville in October 2020, making it a true labor of love for Carson. The COVID-19 pandemic brought the future of the bar and restaurant industry into question, but negotiating the obstacles thrown in the Knoxville taproom's way is Carson's specialty. 
Barrelhouse by Gypsy Circus is a warm and inviting space on Lamar Street in the Happy Holler neighborhood. Carson's exuberance and energy are reflected in the vibrant mural painted on the front of the restaurant. Inside, the exposed brick walls are covered in paintings and woodwork; Odes to apples, honey, bees, and other vital ingredients in the ciders they pour. Behind the bar, an extensive list of ciders, meads, and more are offered both on tap and in cans and growlers to-go. However, the most popular item at Barrelhouse is by far is the cider flight. Cider and mead flights are four 4 oz. pours of the customer's choice. 
The Bohemian, the taproom's restaurant, serves a menu inspired by Carson's international travels, and features house-baked breads and sauces created with flagship Gypsy Circus ciders. A foodie herself, Carson often creates cider pairing menus for events held in the taproom and adjoining private event space, Tapestry Knoxville. 
Carson believes in supporting local makers and creators as often as possible, and often collaborates with other local Knoxville entrepreneurs such as the Euphoric Cheese Shop for unique events such as the Come to Cheezus Festival this past September. Barrelhouse by Gypsy Circus features live music, trivia, and comedy programming every night of the week, as well as special events like the Golden Girls' Trivia Drag Show. 
Interested in sharing your "Made for Knoxville" story? Submit here!