All Things Regan was Founded in Knoxville by Regan Adams. She has since relocated.
Regan Adams is #MadeForKnoxville.
After starting her event planning business in 2014, Regan was having fun and not taking it seriously. In 2016, everything changed. Her husband (at the time) was sent to prison, and she had to supplement the income that was missing in his absence. Regan almost lost everything, but her business is what sustained her and her daughter.
Regan decided to divorce her husband right before he was released from prison, and she began a continuous journey of learning to love and work on herself. She was finally able to put herself first and really dive deep into why she believes dating is dead: because we don't know who we are in the first place. Regan starts with this understanding as she provides advice to others on how to communicate better and listen to understand. As an event planning expert, Regan also hosts her own events and invites relationship coaches to panel discussions where tools for improving relationships are provided to those who attend.
Tragically after her divorce, Regan found her ex-husband dead on the floor after a wellness check. This traumatic experience caused her to focus her life on encouraging people to make sure they are actively taking care of themselves. Whether providing relationship advice, motivational encouragement, or a review on her favorite restaurant, Regan is passionate about helping everyone find joy and live their best lives from the inside out. Regan has since relocated to Houston, Texas to expand her business; however, she is proud to say All Things Regan was founded in Knoxville.
During the time that my husband was in prison, I was able to work on myself from the inside out and totally fall in love with me, something I hadn't done before I met him. Doing this inner work helped my business go to another level.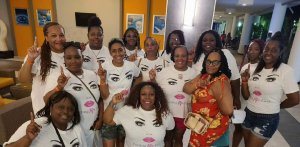 In Their Own Words…
My name is Regan Adams and I am the owner of the event planning business, All Things Regan. This is the umbrella business for two experiences that I host: "Putting Me First" and "Dating is Dead, Who Killed It". "Putting Me First" is a women's getaway trip to pour into themselves without the cares of everyday life. Many women are caretakers of everyone else but rarely pour back into themselves. I have found that while women are taking care of others, they are often not operating in their God-given gifts, or what they were put on earth to do. They are not only short-changing themselves from a happy and whole life, but are also keeping the people around them from experiencing their full potential.
"Dating is Dead, Who Killed It" is a relationship-based panel discussion and event that is centered around all things relationships. It is open for people who are married, single, divorced or in a situationship. No conversation is off limits. We also involve relationship/dating coaches or therapists in the discussions, because men and women have been having conversations about love forever, and it seems like we've been hitting a wall. I figured we should bring in the professionals to talk about why we do what we do. Love is attainable for everyone, but we may just be going about it the wrong way. In my opinion, we all need a coach in every area of our lives….why not have it in love?!
Interested in sharing your "Made for Knoxville" story? Submit here!