Nick Borrego is #MadeForKnoxville.
Nick Borrego is a 24-year-old entrepreneur with plans to leave the planet a better place than he found it. How? With his Borrego & Bendel Corporation: a Smart City Technology company with the goal to increase safety, efficiency and data collection while reducing the environmental and economic costs of traffic.
Nick sees the importance in finding solutions to the world's problems. Not only is he the CEO and founder at Borrego & Bendel Corporation, he is the COO and Co-Owner of ATS Innovations. At ATS Innovations, Nick's team develops medical patents and uses technology to revolutionize the medical industry. Nick has lived in big cities around the country, but credits Knoxville as a city with maximum entrepreneurial opportunities. His businesses are located here in Knoxville, where he successfully utilizes technology to help the lives of others.
"I would also like to mention that Knoxville, Tennessee, changed my life. I have lived in HUGE cities (Denver, Phoenix, L.A.) and these massive cities had minimal opportunities for entrepreneurship compared to Knoxville. If you are considering starting a business with amazing local roots, I would 10/10 recommend Knoxville."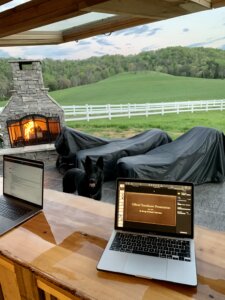 In Their Own Words..
Everything stemmed from when I was a child, at the age of 10 I began taking a new perspective of how I could make an impact, create a legacy, and change the world for the better. It all started with my Idea A Day, essentially a small business plan… it included product title, description, similar products and services, how much would it cost to develop, how much would I sell it for, who was my customer and a quote from Forbes. Today I am a 24 year old entrepreneur that has dreams of making a positive impact on the planet. For me, my purpose is to leave the planet in a better position then when I first arrived. I will do this through hard work, discipline, innovation and execution.
Starting with the TL20G1, a highly effective and efficient smart traffic device that will revolutionize technology and transportation. Our goal is to exponentially increase safety, efficiency, accurate data collection while reducing the detrimental environmental and economical costs associated with present traffic management. We will do this by imbedding an impressive series of algorithms designed by our world renowned Silicon Valley engineers and Oak Ridge National Laboratory engineers. Then we will finalize our prototype and begin testing, implementation and receive our desired impact.
I have also partnered and became part owner of ATS Innovations. We have developed the MetaFlex glove to relieve the pain of arthritis. We have invented several prototypes, received a patent, and won two awards for our design. We are now in the process of manufacturing and going to market with our proven technology. The best part is we aim to revolutionize the medical industry. We can easily sell these gloves for a lot of money per glove, but we are focused on the impact over the profits. We want to make a difference in people's lives, we want to be the difference that so many people need but can't afford. That's why my business partner (Tèa Phillips) and I have agreed that we will go to market selling each glove for no more than $32 per glove. Once we confirm a price with our manufacturers we would like to even reduce the $32.
I have been blessed to live three lifetimes by the age of 24 years old. From my early stages where I had the opportunity to experience both sides of the success spectrum. My parents came from nothing… my father was a Cuban immigrant that won citizenship in the United States and came with the clothes on his back. My mother was a maid in a small town. Years later I was born and my parents had a dream to make a difference in the medical industry. Before this idea came to fruition we didn't have a lot of money…. We struggled and I saw my parents work so hard to hardly make ends meet. Then the day came, they started Air Ambulance Specialist and put everything on the line… we would have been homeless if this didn't work, my grandfather took out a second mortgage on his house to fund the business. A few short years later I saw what it means to be an entrepreneur. I saw the struggle, I saw the dedication, I saw the rise of an empire. In 2006 my parents were featured in entrepreneur magazine for the Top 100 small businesses in America next to one of their several leer jets. I didn't get to just experience this, but I lived it. I remember sleeping on the floor next to my parents as they worked all day and all night. I eventually got to the point where I was assisting in making calls and learning more about how a business works. That's when my obsession began.
A few years later they sold the business for X millions to a company called American Medical Response or AMR. AMR later sold the business for $2 billion. Years later I was in college at Grand Canyon University when modeling came into my life. I was 19 years old at the time and begin taking pictures on my social media and started gaining traction. Long story short, I have been in several commercials, magazines all over the world, been the face of companies and even lived at the very top of Hollywood Hills. I reached success in my modeling career without ever being signed to an agency… I marketed myself, developed all the connections through my network, booked shoots, got paid and had amazing experiences with very prestigious people. The day I left LA was due to a movie producer… everything I worked so hard for had finally landed right in my lap. A guaranteed $1 million contract and a lead role in a movie…. Fame, fortune and a dream fulfilled by the age of 21 years old. The only stipulation was that I had to engage in sexual activities to receive this dream. At that moment, through all the hard work, execution and time put into my dreams I let me heart speak. I knew I was better than that, I knew that I would never sell my soul to achieve my dreams. So I found another way.
I moved back to Phoenix where I still had my house and started sales…. Long story short, at the age of 21 in 8 months I was promoted to assistant market manager with a promotion to market manager where I would open my own office in Colorado. I made the business a lot of money, ran one of the best teams in the country, and travelled nationally to inspire and create substantial growth. I was young, I was succeeding, I was going above and beyond… the only problem was that I wasn't doing it for myself. I was building someone else's dream that didn't have the impact that I have craved my whole life. That is when I moved to Tennessee. I began working for my aunt's construction company at the age of 22. Learning the ins and outs of construction and real estate, because I understood that investing in land and property is a major asset. While learning the back and front end of construction I continued my idea a day when boom, the TL20G1 was born. I was on the way to the gym and there is this one traffic light that really opened my eyes. The crazy thing is that this had been happening my whole life and I didn't even realize it. Everyday I would sit at this red light at 9:00 p.m. and there were no other cars around. I thought to myself… wow… we are in the 21st century and people are developing flying cars but I can't even get a green light to go to the gym when there are no other vehicles around… and thousands of hours of research, developing connections, getting funding and execution has gotten me where I am today. I have never been so passionate about something in my entire life. I have spoken with people all over the world, from Google to Tesla to Harvard to the United Nations to Australia etc. and people began falling in love with it as much as I did. That's when I knew I had something special.
I then began to affiliate myself with local organizations that could expedite specific processes and guide the business in the correct direction. I developed a team of amazing people that have 25+ years experience on the low end and have PhDs ranging from Neuroscience to Engineering. We are in a great place right now. We are working efficiently and effectively to make sure this dream becomes a reality. And at the end of the day a $1 to $4 billion dollar evaluation doesn't phase me…. Sure the money is great and is a necessity but at the end of the day I'm in it for the impact. The chance to get a child home to their family safely, the chance to give people back the time wasted at sitting at a light (about 3,000 hours or 125 days), the chance to save hard working tax payers billions and billions of dollars while improving our environment, and the chance to collect new and accurate data to help shape the future of transportation is much more rewarding than any dollar amount. Like I said… I not only want to change the world… but I am going to change the world. And the fun part is, this is just the beginning. I have 250+ full proof ideas that will make a revolutionary change. Unfortunately, statistically speaking… I will not have enough time in this lifetime to fulfill all of these ventures so it will be passed on for generations to come.
Interested in sharing your "Made for Knoxville" story? Submit here!