Kaleb Buckner is #MadeForKnoxville.
When Kaleb moved back to Knoxville from Los Angeles in 2014, he was in debt and had little prospects for hope aside from his faith and his new friend, Ryan. Sometimes, and certainly in Kaleb's case, those things are all you need — well, that and some serious video skills too. 
Shortly after meeting, Kaleb and Ryan discovered they both were visionaries with video work, and they began collaborating on projects. Out of that collaboration, Always Abounding Multimedia — now a team of highly creative video producers and passionate story tellers — was brought to life. 
Today, with campaigns like #BlessABiz, they hope to utilize Always Abounding to pour back into the Knoxville community that poured so much goodness into their own lives.  
"Not only do we feel made for Knoxville, but Knoxville was made for us."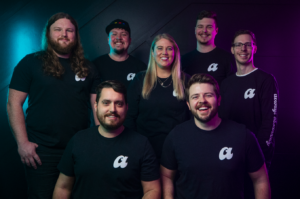 In Their Own Words..
Moving back to Knoxville in 2014 from Los Angeles, I had over $15,000 in debt from living expenses, no job, and no clue what to do… just valuable knowledge from being involved in the production and marketing industry out there.
I applied to countless jobs both in Knoxville and throughout the southeast, but to no avail. Nobody was hiring and I had debt to pay off. That's when I met my now business partner, Ryan Stanley. We started meeting over coffee and a Bible study in late 2014. We quickly found out we had a lot more in common than our faith and affinity for caffeinated beverages. We started taking on small side projects for the next couple of years until we grew to the point where we both could go full-time.
7 years after that first meeting over coffee, we now have a thriving video production company that has won Best of the Best Video Production Company in Knoxville for the past two years, traveled all over the world (Thailand, Vietnam, India, and Africa later this year), and a team of employees who inspire us everyday to not just be the best in Knoxville, but BE THE BEST FOR KNOXVILLE.
Our Big Idea is actually something we are already implementing. It's something we believe in and allows us to celebrate the other entrepreneurs in throughout the Greater Knoxville area.
We have currently pulled all of our marketing budget from google and instead, are investing it back into our city with a community-focused marketing campaign, #BlessABiz.
We tested this out a few years ago and saw the impact it had on the small businesses that we showcased. After 2020, we noticed that the need for better video content for small businesses couldn't be greater, so we've finally brought it back! We highlight 3-4 businesses a month with fun, marketable "mini-videos" for social that showcases who they are, what they do, and why our city should care. It gives us the opportunity to use our gifts and talents to help businesses and organizations who typically couldn't afford our services.
Knoxville has allowed Ryan and I to not only provide for our families, get out of debt, and provide fun, fulfilling jobs for our employees, but it's given us the responsibility and honor of pouring back into the community that has been there for us for the past 11 years. Not only do we feel made for Knoxville, but Knoxville was made for us.
Interested in sharing your "Made for Knoxville" story? Submit here!