Jamie Chard Kowarick is #MadeForKnoxville.
Jamie Chard Kowarick has had an eye for design since she was little. Selling her hand-knit accessories in high school sparked her passion for fashion and led her to the Fashion Institute of Technology in New York City.
 After moving to Knoxville with her fiancé in 2016, Jamie began selling leather handbags, shoes and accessories at craft shows and the Market Square Farmers' market. Though she faced the challenges of moving to a new city, Jamie felt inspired after the pandemic and officially launched Fado Made in the city she now calls home. 
Fado Made intertwines vintage styles with modern designs to achieve stylish yet practical designs, paying homage to classic bag designs. Jamie loves combining retro and modern elements for that perfect piece—no matter what handcrafted, custom accessory you're looking for.
"I love to pair the retro style with more modern shapes, patterns, and design elements; such as pockets that will fit your phone."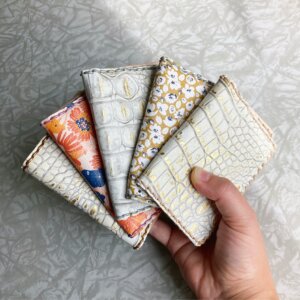 In Their Own Words…
My name is Jamie Chard Kowarick and I think it's safe to say I've always loved design. I was a very shy child and teenager, but I found it much easier to express myself through dance and drawing. My passion for design really sparked in high school when I was a Sophomore. I loved to experiment with my outfits and first taught myself to knit and sew when I was 14 years old, where I started selling knit accessories around that time under the name Fado Creations. When college came around, I found out about the Accessories Design program at the Fashion Institute of Technology in New York City, and knew it would be the right place for me. At F.I.T. I learned how to work with leather, and how to construct handbags, shoes, and other various leather goods. After graduating, I started making simple leather accessories with the limited resources I had, while nannying to make a living, and eventually got my 200hr certification to teach yoga.
My husband and I moved down to Knoxville from Connecticut about 2 months after we got engaged back in 2016. Upon moving down here, I tried very hard to get what was formerly known as Fado Creations off the ground, and was met with very mild success. Though I sold my items at Southern Market, the Market Square Farmers' Market, and a few craft shows throughout the year, it was a struggle for me to find my footing in a new city/state, plus, I was dealing with a lot of homesickness and imposter syndrome. I honestly got discouraged, it was an overwhelming time, and I got through it with a lot of yoga. The decision for me to step back did not come easily, but I also did not entirely love what I was putting out, so I decided to focus more on teaching yoga because it felt more fulfilling. My intention was to teach yoga and continue to grow my brand, but at one point I stopped making things all together, besides a little something here and there. The word 'failure' was in my mind a lot because I felt like I had just given up on my dream, but I was honestly confused on my direction and what I truly wanted as a career.
In August 2020, after months of the pandemic, I felt more inspired than ever and decided to try again, and I am so happy I did. I don't know if it's from knowing more people from yoga and living here almost 5 years, or how I've changed my design aesthetic, but I have been wonderfully overwhelmed by the response of people. I have been extremely busy everyday between my teaching schedule, two new puppies, and making commissioned pieces since last September.
Fado Made today is all about handcrafted custom accessories, vintage styles, and quality construction. Most of the handbags I make are a homage to the box bag purse that was first introduced in the 1930's and gained more popularity into the 60's. The box bag style is very structured, sleek, and in my opinion, sophisticated yet bold. I love to pair the retro style with more modern shapes, patterns, and design elements; such as pockets that will fit your phone. All of my custom bags and best sellers have been named after the people who inspired or commissioned them.
Interested in sharing your "Made for Knoxville" story? Submit here!