Heather Ripley is #MadeForKnoxville.
How does a locally-owned PR firm become a nationally acclaimed name in the industry? Heather built her own niche in the world of public relations using knowledge she gained as an employee. Each job served as a stepping stone, leading her to a place where her passion thrives: helping her own clients build their brands with a team she trusts.
Before founding Ripley PR, Heather spent years building a bank of knowledge as an employee for other companies and agencies. By 2013, she had learned enough to inform her unique vision and mission as a business owner. Now, Heather and her team help underserved companies build their brands with a unique blend of marketing and public relations services. She loves working with companies in the trades industries, and she has built an impressive portfolio of clients with her reputation, business savviness, and focus on client relationships. Amongst other recognitions, Ripley PR was named by Forbes as one of America's Best PR Agencies for 2021! Because of Heather's passion for working with small businesses, franchises, and home service companies, her clients have been featured many times in the media on major news channels. Also in 2021, Heather wrote a book specifically for home service companies to recognize the value of public relations. Check it out here.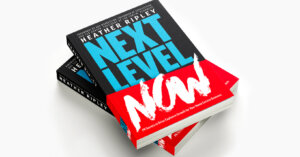 "I knew I could only do my best work serving the types of companies I knew were underserved by PR."
In Their Own Words…
After spending several years in marketing and PR for a large home service franchisor, a manufacturing company, a PEO, and working my way into senior management of two agencies, I started a public relations agency, Ripley PR, in 2013.
Getting to know many business owners in the skilled trades taught me that they have a tremendous understanding of marketing, but many aren't aware of how public relations can play a huge part in building their brand and public reputation.
To that end, I built Ripley PR into an elite, global B2B public relations agency that specializes in home service, such as HVAC, plumbing and electric companies, building trades including construction companies, architects, and engineers, B2B and vertical SaaS tech, manufacturing and franchise brands.
Ripley PR is passionate about helping anyone in the trades or companies that serve the trades. Because of our specialized expertise and reputation, Ripley PR is sought out by companies worldwide.
What Led to Entrepreneurship:
It was during my time working with the franchise owners at One Hour Heating & Air Conditioning, Mister Sparky and Benjamin Franklin Plumbing that I realized how passionate I am about business. I got so much energy from talking to the franchise owners and helping them grow their businesses with marketing and PR.
From there, I moved into agency work and learned that I absolutely love the agency life. Learning about new industries and accepting new challenges improved my knowledge and honed my public relations skills so that I was able to help business owners, both large and small.
As my passion grew, I realized the only way I could truly help the type of businesses I wanted to help was to start my own agency.
After living in other states for 10 years, I moved back to the Knoxville area and worked as a senior executive for a local agency. This agency grew quickly but didn't have a focus on the types of businesses I was passionate about. I knew I could only do my best work serving the types of companies I knew were underserved by PR. It was then that I decided to create an agency where customer care resulted in repeat business.
So, with no clients and no outside investors, I started Ripley PR. Since its inception 10 years ago, we've been focused on building the reputations of the businesses I knew we could help while developing a strong relationship with our clients. Ripley PR partners with our clients to solve their problems, tell their stories and keep them coming back for more.
Ripley PR has grown into a highly respected public relations agency serving clients all over the United States and in several other countries. Ripley PR was named by Forbes as one of America's Best PR Agencies for 2021. The agency has also made Entrepreneur Magazine's annual list of the top 10 Franchise PR agencies for the past four years, and it was named #2 PR agency in the greater Knoxville area by the Knoxville Business Journal in 2022.
In 2021, I published the book, "Next Level Now: PR Secrets to Drive Explosive Growth for Your Home Service Business," through Advantage Media Group. This book serves as a guide for business owners in the skilled trades on how the power of public relations can help them boost their visibility and reputation.
Lessons Learned:
The biggest lesson I've learned as a business owner is the importance of hiring the right people. Over the years I've made some mistakes and hired people that weren't as passionate about what we do and why we do it. Without a core team of quality employees, it becomes impossible to build the right brand and service our clients effectively. I strive to surround my employees with the best, most talented and positive individuals so the whole team can succeed.
I take my employees' livelihoods and financial well-being very seriously. This means that any decision I make affects them, so it's not something I take lightly. When you have even one person trying to row the boat in another direction, it hurts the rest of your team.
But, if you have a great group of people surrounding you, like I do now, it makes facing the biggest business challenges less daunting because these people help you make better choices. It's certainly a blessing when you finally get the hang of hiring the right people who are as passionate about helping business owners as you are.
Interested in sharing your "Made for Knoxville" story? Submit here!