Craig and Brady Fernandes are #MadeForKnoxville.
Brady pursued Patriot Threads, a philanthropic clothing brand, as his Capstone Project in high school. In his pursuit, he realized his entrepreneurial venture provided him the opportunity to give back to a group that had given him so much: his local veterans. 
What began as a school project turned into a lesson on relationships and gratitude, with people throughout his Knoxville community stepping in to help Brady's cause. After partnering with local organizations that support veterans–and witnessing the impact he could have on his community–Brady realized the true power and purpose of business lies in how it allows you to give back.
Brady's business mission, "we exist to serve others," delivers a powerful message and reflects the values of Knoxville and the Volunteer State into his cause.
"It is very important to have a purpose that transcends your business."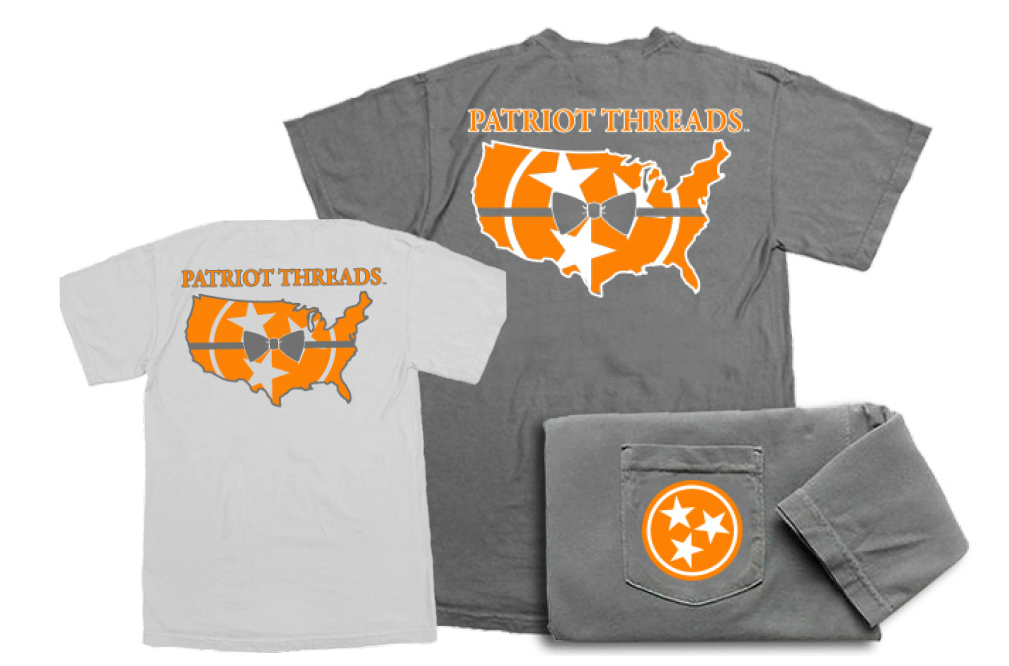 In Their Own Words..
It was the fall of 2015 and my son, 17-year-old high school Junior Brady Fernandes, was finishing up his shift as a retail clerk at Kinnucan's Outfitters where he had been employed for the last two years. As he was putting away inventory, the idea for creating a new line of apparel came to him. He had been thinking about a plan for his Capstone Project; a requirement for every graduate from Christian Academy of Knoxville. This Project requires students to find something of interest to them, which springboard them to the next level after high school. This project must have a philanthropic purpose as well. Some students coached teams for disadvantaged youth while others held bake sales to raise money for charity. Brady decided to use his experience in retail and his eye for style to develop a line of patriotic apparel. His plan was to sell the apparel and use the proceeds to raise money for local non-profit organizations supporting wounded veterans. You see, Brady's grandfather was a veteran and he had friends and family members that served in the military. This and the needs of veterans being highlighted in the news and political landscape, helped Brady decide to do something that would continue beyond this project.  
By definition; a Patriot is a person who vigorously supports their country and is prepared to defend it against enemies or detractors. Threads is often used as a slang word for clothing. So, when you put the two together you get a brand of clothing that shows support for country and for those who fought to defend freedom. Brady's first design was the outline of the United States with a bow tie ribbon strapped across the entire country. When I asked Brady what this original design meant– he said, "The ribbon represents a proper Southern look which appeals to my generation and, more importantly, is a throw-back to the days when people would tie a yellow ribbon around their trees to show support for the troops." From that first classic red, white and blue American flag design, Brady moved into state themes and popular local school colors to have a more home town appeal. This reaches people on a local level, allows them to show off their pride for their state and is tailgate worthy as well. 
When Brady asked me to help him with his project, I immediately said yes because I saw it as an opportunity to spend time building my relationship with my son. I am a business consultant by trade, which made this a fun challenge for me. One of my roles was to contact the potential non-profit organizations and setup meetings where Brady could show them his Patriot Threads apparel and propose fundraising for them at their events.  
It turns out this project developed into a lesson in cultivating relationships, the power of networking and gratitude. We needed a local company to print the shirts, and someone at Brady's school recommended a screen printing company called Threds. One of the owners also had children at Brady's school so they understood the project. We needed a mentor in the industry and Keith Phillips, the other owner of Threds, decided right away he believed in our cause and would mentor us. We needed a designer to help turn Brady's rough ideas into a finished product, and their designer, Ryan McCray stepped up. The relationships with Keith and Ryan have been a huge part of our ability to launch the brand and keep it going.
So now we had shirts to sell, but still needed a veteran's organization to support; one that was willing to give Brady a chance to sell his shirts at one of their fund-raising events. A google search on Veteran Fund Raisers in Knoxville led us to Project Healing Waters Fly Fishing. They help disabled veterans with their recovery by teaching them how to tie flies and taking them on guided fly fishing trips into nearby Tennessee streams. Steve Thompson is our main contact there and he let Brady come to their monthly meeting to meet the Veteran volunteers. They were gracious enough to let Brady set up at their next event, which was Pint Night at River Sports Knoxville. People loved our shirts and we raised an amazing $200 for the organization at that kick-off event. Not bad for a high school project! The biggest impact on us from the event, however, was from the conversations we had with the Veterans who told us their stories and thanked Brady and I for what we were doing for them.  
It was at this point we realized Patriot Threads could be much bigger than a school project, and become something Brady could possibly turn into a viable company of its own. I knew Brady's story was special and hoped some of the local media outlets would consider writing an article or covering our story on the local news. We had seen how the Veterans and the community were supportive of what Brady was doing and thought that if we could reach a broader audience, it would help us to help more veterans. I reached out to local radio station WOKI and spoke with Bob Yarbrough, a well-respected news-talk radio show host who used to live in my neighborhood. When I told him Brady's story, he loved it and agreed to have us on in February 2016. We are very grateful to him for the opportunity to share our story and mission as guests on the Howell and Yarbrough Show.  
Two months later, I reached out to the same radio station and Hallerin Hilton Hill agreed to let Brady share his story from a Father and Son angle. This second show added additional validation to our mission and widened the reach within Knoxville. Brady and I were also able to meet with Knox County Mayor Tim Burchett and Knoxville City Mayor Madeline Rogero, who connected us with the veteran support team they had assembled. Things were moving in the right direction and what followed was another answer to prayer. The Knoxville News Sentinel decided to do a front-page story on Patriot Threads as a Father and Son business in the Sunday Father's Day edition in 2016, which included a follow up full page photo and story in the business section of that paper. To this day, it is that article most people mention when I ask how they heard about us. After the newspaper article ran, I reached out to some local television news reporters and they were much more open about doing a story on Brady. What followed was a series of local TV News stories by WATE and WVLT over July 4th weekend and a Live At 5 appearance of Brady and I along with Matt Zaczyk, our University of TN brand ambassador and apparel model.
We knew we had something special in our designs and our cause struck a chord in the hearts of people in the community who wanted to support our veterans. Brady and I decided the next logical step would be to see if the brand could have a following in retail stores as well, so I contacted 3 local game day apparel retailers. We were ecstatic, to say the least, when Brady and I met with buyers for each of these stores and they all agreed to place stock orders to carry our shirts. We took a risk and attended 2 retail trade shows to expand our reach and customer base. From those shows we received orders from 40 additional retailers in 13 Southern States for our Game Day Line of Patriotic Apparel. At that point, we knew, at least the boutique retailers near southern colleges were willing to give Patriot Threads a shot.  
So far, we have raised over $5000 for 15 different local non-profits. Each event has changed us for the better and makes us more committed to our cause. This has been an amazing high school project, but Brady has set his sights much higher for his brand and its mission to raise awareness and support for Veterans and other worthy causes. There are over 22 million veterans in the United States and many of them are disabled or just forgotten. We want to change that by using Patriot Threads Apparel with a Purpose to start a movement across the entire country.
These experiences have brought Brady and I closer together. They have helped Brady realize how much I support and am there for him to help in his success. Brady never had the opportunity to give a live interview for a newspaper story before, so I had the chance to help him with his confidence. Brady practiced for the interview by telling me his story as if I had never heard it. When the reporter came to our house to interview us, Brady was more comfortable and also very sweet. He can be confident that I always have his back. We always went out for a celebratory dinner together after the filming. He was the focus of the interviews, but we knew we were now a family business that would continue to grow, both in sales and in our family bond.  
I have also grown through this experience as it has honed my business skills and also changed the way I view my purpose in life. The best way to describe it is; I was blind and now I see. I used to have goals that were primarily focused on my own personal success – I now have shifted my motives and core mission to always include helping others as a guiding principle in my future business ventures. When you are exposed to the great needs in our society – there is no way you can remain unchanged by it.
We are blessed to have the support of our community. The small-town atmosphere of Knoxville TN, and the Volunteer State are perfect for our company because we now hold, "we exist to serve others", as our primary mission. It is very important to have a purpose that transcends your business. There are plenty of companies out there making great products, but to separate yourself from them you really should have at least part of your corporate mission be focused on helping others. Do not be afraid to fail; you will learn so much from this process it will make the experience well worth the effort.
Interested in sharing your "Made for Knoxville" story? Submit here!