Courtney Jones is #MadeForKnoxville.
When Courtney became a mother, everything changed. She yearned for a flexible lifestyle that would allow meaningful investment in both her career and her kids' lives. As she discovered this longing in other moms, she began to brainstorm ways to connect moms to flexible work… And Momsource Network was born.
Courtney founded MomSource Network in Knoxville, Tennessee in 2016 before it was acquired by Boulo Solutions in 2022. Now, Courtney Jones is Boulo's Chief Revenue Officer. Boulo Solutions' staffing capabilities help businesses diversify their workforce by pairing them with women rarely found on other platforms. They connect this hidden workforce to companies offering jobs with caregiver-friendly cultures. Courtney is a passionate TN football fan and an equally passionate advocate for diversity and inclusion and is a recognized thought leader on topics related to women in business, D&I and work-life blend. She's been featured in Bloomberg, CNN, and Working Mother and has worked alongside hundreds of companies to create meaningful opportunities for women.
I'm incredibly proud of what the MomSource team has built. I look forward to providing additional resources and support to forward-thinking employers and candidates through the expanded Boulo team. It is the next step in our journey to changing the way women work.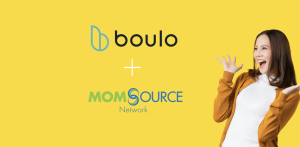 Interested in sharing your "Made for Knoxville" story? Submit here!