By Brian Gabriel Canever
In the past 20 years, the number of Latino residents in Knoxville has grown enormously. In 2000, just 2,803 Latinos called Knox County home. According to census data from 2020, that number is now 28,568 people—a 495 percent increase.
Signs in Spanish for restaurants, salons, construction companies, and other businesses can now be seen on Broadway, Clinton Highway, Kingston Pike, and in nearly every corner of the county.
The area's Latinos represent a diversity of cultures from Mexico to Argentina and everything in between. Their paths often mirror those of any entrepreneur, though with unique challenges. In cities like Knoxville, without long-established Latino populations, they can lack the relationships to access formal financing and to find legal documentation and development workshops in Spanish.
Still these entrepreneurs are resilient.
Chris Morales, Antonella Da Silva, and Karolina Trejos-Youree are three examples.
Morales, born in Veracruz, Mexico, spent his early years in Los Angeles and moved to East Tennessee with his mother in 2001. Trejos-Youree, from San Jose, Costa Rica, came in 2006 with her husband, a University of Tennessee graduate she met while he was on vacation. Da Silva moved to Tennessee from the Venezuelan coastal city of La Guaira in June 2017.
All three have worked jobs across different industries before finding their niches. Morales operates Morales Outdoor Living, a company specializing in creating beautiful outdoor living spaces. Trejos-Youree is the owner of K-Candles Co., which sells hand-poured candles and melts made with 100 percent natural soy wax. Da Silva runs Bakery Antonella, a Venezuelan specialty desserts business.
Where the stories connect is in their shared desire to create something for themselves and their families.
In honor of Hispanic Heritage Month, celebrated nationally from Sept. 15 to Oct. 15, these are the stories of how Morales, Trejos-Youree, and Da Silva found their success as entrepreneurs in Knoxville.
Chris Morales
---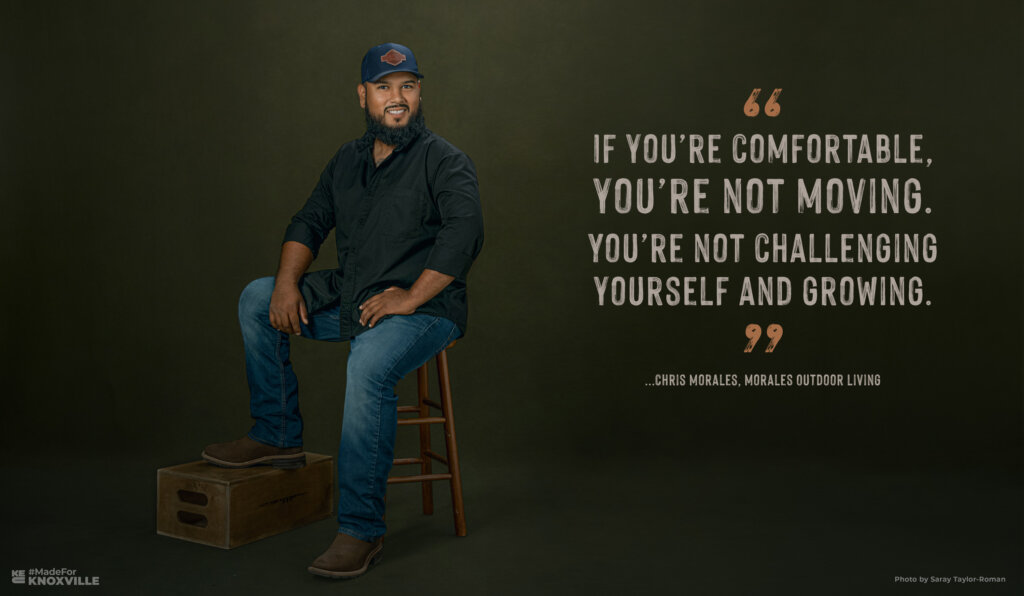 "My wife told me, 'I support you—even your craziest ideas"
When the COVID-19 pandemic forced the temporary closure of many businesses in March 2020, Chris Morales thought his dream had run its course.
"I was convinced I wasn't going to get any more work," Morales says. "I was ready to shut down."
Morales had started Morales Outdoor Living four years ago. It was a crazy idea, he admits. He had a young son and his wife was pregnant. He had a good job working for Pro Pools, where he had spent almost seven years learning pool construction, plumbing, electrical, and any other trade he hadn't learned in his first years working construction after high school.
"But I knew as long as I worked for someone else I wasn't going to get paid what I was worth," Morales says. "I couldn't afford to struggle. I needed to provide a life for my family."
Morales filed the paperwork for his company just days before his daughter was born. He only had two jobs lined up to start. But he was committed to making his business flourish. He learned from popular YouTubers in the landscaping and construction industries and spent a few hundred dollars on programs to learn how to price jobs and write contracts.
The first years were challenging. Morales took much of his earnings and invested heavily in equipment that allowed him to price bigger jobs. He hired up to five workers, typically other Mexican and Mexican-American friends, to help. There were hiccups, like learning how to read red flags from customers who were too demanding or argued with him about prices. "Sometimes people have a champagne taste on a beer budget," Morales says. But he rebounded from those quickly.
Then the pandemic hit Knoxville.
Morales invested even more heavily in social media. He edited together videos from previous jobs, added music, and put them out as ads on Facebook and Instagram. It caught the attention of the owner of Triad PoolScapes, who had been looking for someone to help him on a project at one of the historic homes on Lyons View Pike.
"I wasn't going to call him," Morales says. "I saw the pictures. It was massive."
Morales's other jobs had been residential, pools and small patio areas. This one was thousands of square feet of work, with imported stone, waterfalls, fire pits, and other features seemingly everywhere. But he took the job, knowing what it could mean for his career if he was successful.
Instead of being intimidated by the whole, he broke the project down piece by piece, relying on his experience to fit everything together.
"Man, we knocked it out of the park," Morales says of the finished project.
He put pictures of the job up on his website and social media. Contractors from around the country, who he had met through an online community called Masterminds Behind Luxury Living, recommended Morales put a form on his website with specific questions about budgets and expectations to prescreen for problem clients. Soon, requests from people who had seen his Lyon's View job started rolling in.
"It's been incredible," Morales says. "Our average project now is about $50,000 – $70,000. That's all-inclusive: backyard and front yards, wood work, decking, pools, features. We do full transformations."
---
[ngg src="galleries" ids="3″ display="basic_imagebrowser"]
---
Since starting his company, Morales and his wife have had two more kids. The youngest is just 3 months old.
"It's one of the toughest things, trying to find that balance," Morales says. As owner–operator, he usually leaves the job site, hangs out with his kids until bedtime, then works on proposals and paperwork through the night.
The sacrifice pays off in special moments, like when Morales recently took his son on a job site with him. He had the time off his life. "He doesn't realize yet I'm my own boss," Morales says. "I'm leading a company that has our last name on it and not somebody else's."
Yes, it's been challenging at times. But that's been the most important lesson Morales has learned these past four years: you have to be comfortable with being uncomfortable.
"You can't half-ass it," Morales says. "If you're comfortable, you're not moving. You're not challenging yourself and growing. I'm always stressed out. But that's what gets me the reviews, recognition, and reputation to be able to keep doing this."
Antonella Da Silva
---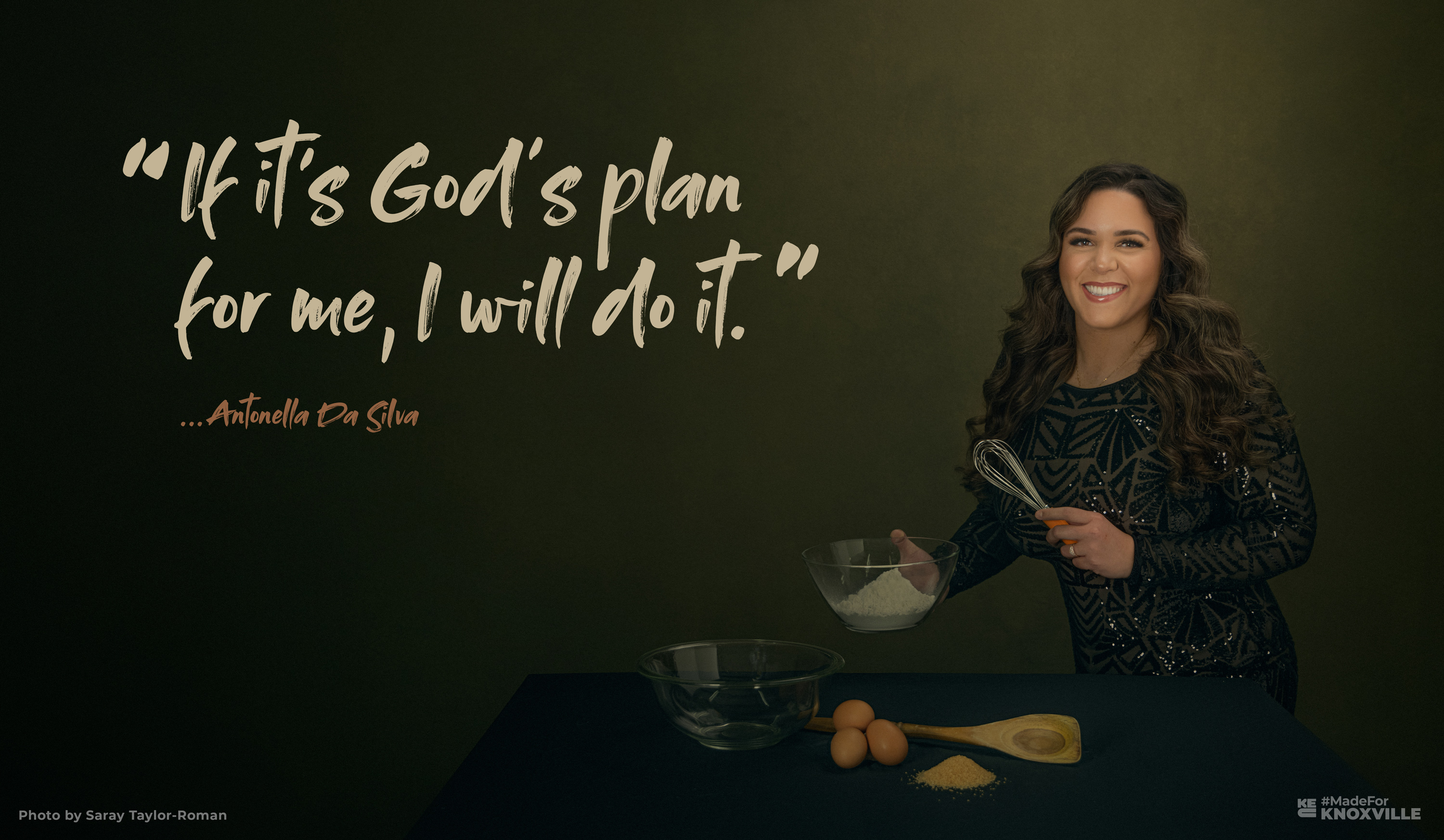 "I didn't just get up one day and decide: I want to make desserts"
There was no big plan in place for Antonella Da Silva.
Before leaving Venezuela in 2017, she had been an industrial engineer. But things were getting worse the longer she stayed: political and economic instability led to violence, which swept through the country. Da Silva was nervous and it showed in little actions she took, like bringing sneakers to the office to change into before leaving for home. "I walked running all the time," Da Silva says. "I didn't even realize until people pointed it out to me."
A friend of hers from college had moved with his family to Knoxville and recommended she come to visit. It was a different world, he told her.
"I loved it here," Da Silva says. "I've been to Atlanta, Nashville, and Miami. Here it's peaceful. I loved the climate and the mountains."
For the first two years, Da Silva worked cleaning tables at Soccer Taco and as a waitress at Girasol, where she met her husband. After their son was born, Da Silva's family threw a big party for his baptism, as is traditional in many Latin American countries. Her husband's family is Mexican, and her mother-in-law invited friends from Colombia and Honduras. Da Silva made desserts for the party. But instead of going for something everyone had tried before, she decided to make traditional Venezuelan sweets.
"They had never had that here in Knoxville," Da Silva says. "They loved it."
At her son's birthday party months later, when people saw the desserts they ran to the table. "I was afraid they were going to knock everything over," Da Silva recalls, laughing at the memory.
That got her thinking. She wanted to be at home with her son, instead of having to put him in daycare so she could work for someone else. People loved her desserts. She talked to her mom, who had run restaurants in Venezuela (Da Silva's parents and brother moved to Knoxville after she arrived). They went into business together, putting Da Silva's first name on the business because "there was no other Antonella I knew of in Tennessee," she says.
All her products are Venezuelan. She makes cakes of all sizes, fruit tarts, cream puffs, truffles, and cupcakes with an array of flavors: vanilla, chocolate, lemon, orange, passionfruit. Whatever products she cannot find in Hispanic grocery stores in Knoxville, she orders from Miami.
---
[ngg src="galleries" ids="1″ exclusions="7,8,9,10,11″ display="basic_imagebrowser"]
---
Like many of the city's Latinos, Da Silva and her family connected with Centro Hispano—which runs English-language courses and other workforce development and youth and family programs for Latinos—soon after arriving in Knoxville. Before the pandemic, she attended English classes and connected with Hilda Castillo, a fellow Venezuelan who is currently the organization's small business coordinator, tasked with developing a comprehensive support program for entrepreneurs at every point in their development.
Castillo directed Da Silva to the people she needed to help her get Bakery Antonella registered.
"There is no information in Spanish for people trying to start a business," Castillo says. "That's the first strike against them. But then they also need marketing and technical support. Some people need you to hold them by the hand from the very beginning. We're developing all those materials and workshops."
The program is growing by word of mouth. Pre-registration for new entrepreneurs launched in early September and within 24 hours Castillo received 13 inquiries. Centro Hispano is also actively recruiting facilitators for workshops in marketing, sales, licensure, human resources, legal, graphic design, and other areas.
"I'm a dreamer," Castillo says. "People stop because they don't have the backup. They don't have a shoulder to stand on. People tell them they're crazy. No! Let's go. If you fall, get back up. We will help push you forward."
Da Silva is a dreamer, too. Currently, she sells her products online through Facebook and Instagram and does orders by telephone. Her son, now two-and-a-half years old, makes appearances in videos she posts and shares with friends. He follows after her, shouting "cake cake cake."
"I really did this for him," Da Silva says.
She hopes, one day, to open her own space. In Venezuela, it was common for people to meet in the afternoon at a cafe for coffee or juice and desserts just to talk. It's one of the things she misses most. She'd like to offer something like this, with big glass cases featuring her desserts in various flavors for people to sample. It's not yet been done in Knoxville.
"If it's God's plan for me, I will do it," Da Silva says.
Karolina Trejos-Youree
---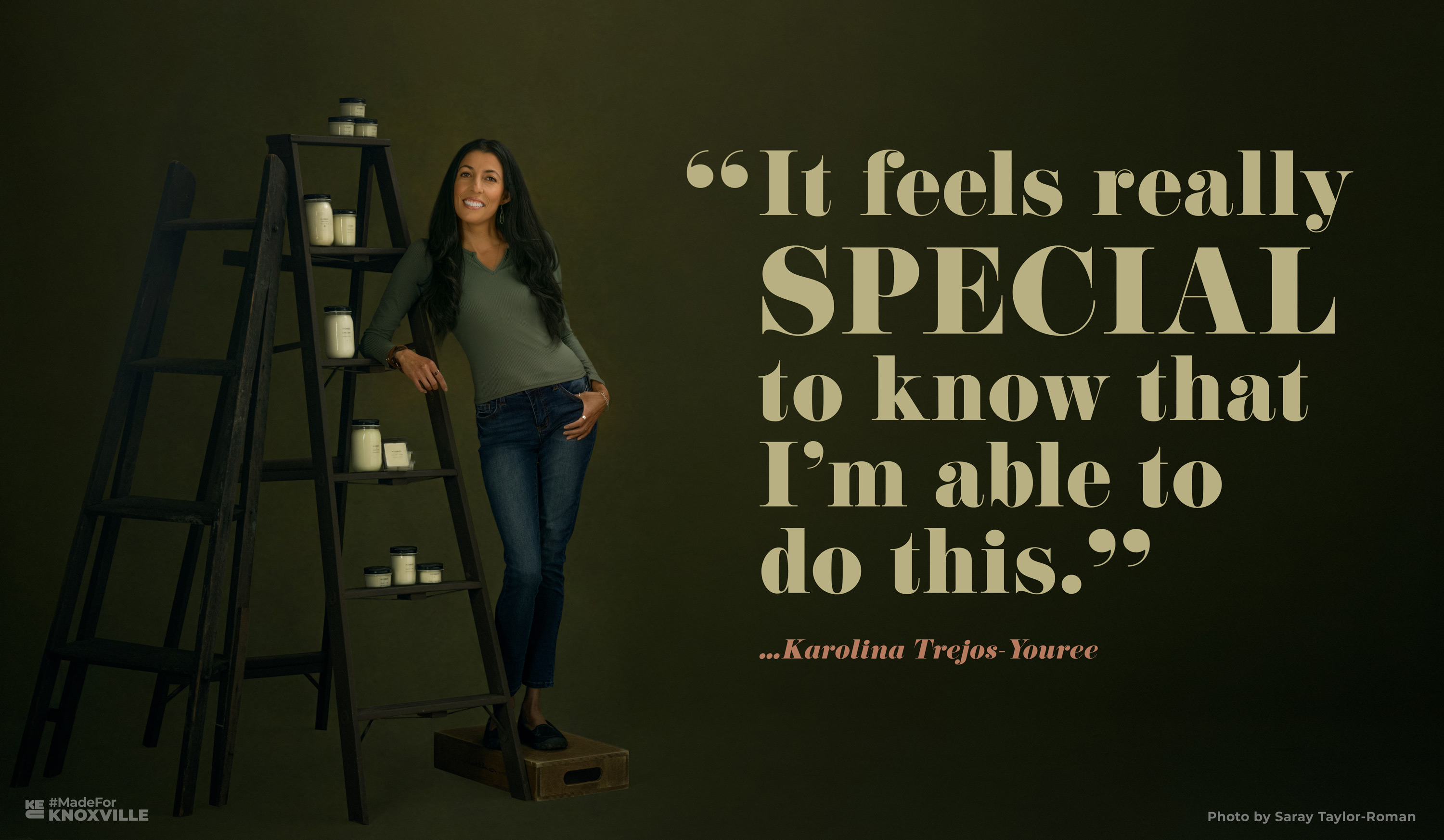 After moving to Knoxville from Costa Rica, Karolina Trejos-Youree and her husband moved into a historic home in the Old North neighborhood. They loved it. But the home had the distinct smell of one that has been lived in for decades.
"When you're out of town for three weeks and you come back, you notice it," Trejos-Youree says. "It's home. But it also smells like old stuff."
For years, she had tried to cover the smell with candles and room sprays she bought in stores. But the scents were harsh. Sometimes friends who visited coughed. It made her think: there has to be something more natural available. A scent that isn't produced by the chemicals she knew were in the more popular products.
"So I started making my own candles and tried all these different waxes," Trejos-Youree says. Soy quickly surfaced as her favorite: it was biodegradable and didn't leave black soot like other waxes do. She experimented with red and blue dies before realizing those were also toxic.
Her home started to smell better, and Trejos-Youree decided to start giving away candles as birthday and holiday presents to friends, family, and co-workers at the bank where she was working at the time. That was back in 2012.
"This was just supposed to be a hobby for me," Trejos-Youree says. "But I got a lot of good feedback."
By 2015, she had quit traditional work to stay at home with her kids. She wanted extra income and was encouraged by friends to turn her hobby into a business, which she registered in spring 2018. Patricia Robledo, then business liaison for the City of Knoxville, connected her with The Maker City. Trejos-Youree began selling her products at local markets and attended monthly meetings at the Knoxville Entrepreneurship Center, where she took an Etsy seminar, which taught her how to sell her products online.
"I've been doing the Old City market since I started," Trejos-Youree says. "That's the best."
Her products are now in several local stores: 214 Magnolia gallery, Tile Sensations on Sutherland Avenue, Southern Oak Lavender Farm in Mascot, SoKno Market in South Knoxville, and KC Kitchen Center on Kingston Pike. In December 2020, Trejos-Youree was featured in a segment by WATE. This past March, she was interviewed for the Startup Knox podcast.
"There's not a lot of Latinos doing this kind of work," Trejos-Youree says. "But the city has been so supportive. It feels really special to know that I'm able to do this."
[ngg src="galleries" ids="4″ display="basic_imagebrowser"]
For the next phase of her business, Trejos-Youree is focusing on growth. Her kids are old enough to help with stickers and lids, though she does most of the work alone when they're asleep. She'd like to expand her product line to include air fresheners and room sprays. That will take getting into more stores and markets.
"You cannot smell through Etsy," she says. "I love the contact with the customer. They can meet the maker, see the products, and smell. That's one of my favorite parts of my company."
---
You can connect with the three entrepreneurs featured through the links to their businesses above. To learn more about Latino entrepreneurship in the city or lend support to Centro Hispano's small business development program, visit the organization's website. To learn more about Latino culture in Knoxville, visit HoLa Hora Latina, which hosts events throughout the year, including the next HoLa Festival in October 2022.
---
About our contributors: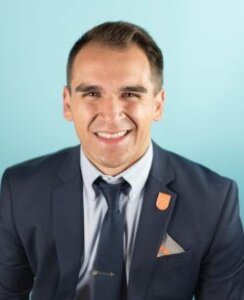 Brian Canever is Argentine-American storyteller living in Appalachia who has written news, profiles, and feature stories about American cage fighters, immigrant soccer players, front-line health care workers, and hundreds of international nonprofit and higher education leaders for publications including ESPN, The Knoxville Mercury, Top Drawer Soccer, Latino Outdoors, and the University of Tennessee's Torchbearer Magazine.
Brian works for the University of Tennessee's news and information department and also serves as the chair of the board of directors for Centro Hispano de East Tennessee.
---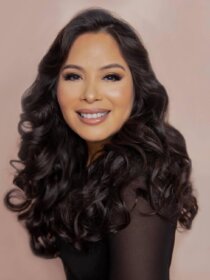 Saray Taylor-Roman is an award-winning and internationally published photographer who has called East Tennessee home since 2004. Her passion is to empower women and men through photography. She seeks to capture the divinity within each of her clients and then show that to the world.
Saray currently serves as a member of the Maryville College Alumni Association and the Mayor's Maker Council with the Maker City.